Yes, it's true – a picture is worth a thousand words. So what is a few seconds in a major motion picture film worth? According to Paul Mangiamele, CEO of Legendary Restaurant Brands, potentially a billion dollars! As Mangiamele was quoted in this recent article on FSR Magazine; 
"When I saw how many times Bennigan's was mentioned and how so many scenes were shot in the Bennigan's, it's was like, holy mackerel, this is like a billion-dollar commercial," Mangiamele says.
About Fate is a romantic-comedy (romcom) film just released this month (September 2022) staring Emma Roberts, Thomas Mann, Madelaine Petsch and Lewis Tan.  The film opens inside a newly reconstructed Bennigan's and is featured in key scenes throughout the movie. Signature menu items that are loved by Bennigan's devotees include the Turkey 'O Toole™ sandwich, our Death By Chocolate™ dessert and at one point our signature cocktail, Peach on the Beach is thrown.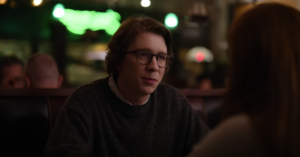 With in the recent article, Mangiamele explains how he worked with film producers and his own executive team to reopen a Boston area Bennigan's that had been previously closed. His team actually move critical pieces that were in storage containers in Texas and drove them to Boston to help create the proper Bennigan's experience.  As quoted in the article, Mangiamele said:
"They sent me the script and I said, man, this is not just a Bennigan's being passed off in a quick scene," he says. "This is Bennigan's being intrinsic to the movie."
To learn more about opening your own Bennigan's, request our Prospective Partner Kit here!
To watch the movie trailer for About Fate, click the video link below: